1. The Building Structure
DTK includes 39 residential floors and one floor of underground parking.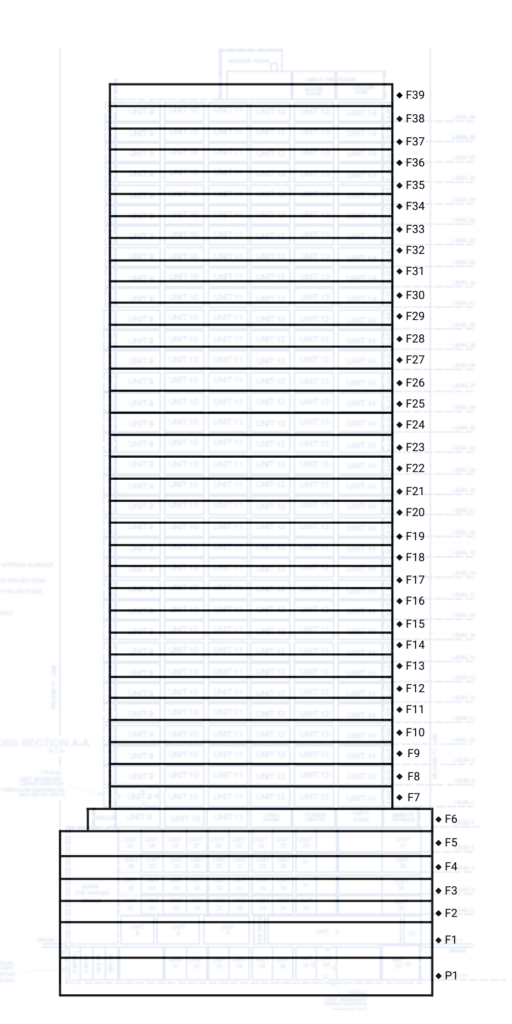 Floors 7-39
Fourteen Residential Units Per Floor
Floor 6
Fitness Centre
Yoga Room
Party Room
Roof Top Terrace
Eleven Residential Units
Floor 5
Enclosed Parking
Parking Units P5-001 to P5-040
Lockers L5-031 to L5-080
Roof Top Terrace
Community Garden
Dog Park
Floor 4
Enclosed Parking
Parking Units P4-001 to P4-047
Lockers L4-038 to L4-091
Seven Residential Unites
Floor 3
Enclosed Parking
Parking Units P3-001 to P3-047
Lockers L3-038 to L3-091
Seven Residential Units
Floor 2
Enclosed Parking
Parking Units P2-001 to P2-038
Lockers L2-028 to L2-086
Seven Residential Units
Floor 1
Main Lobby
Street Facing Commercial Units
Access To Pick-up/Drop-off area
Mail Room
Primary Elevator Access
Two Guest Parking Spots
P1
Underground Parking
Parking Units P1-001 to P1-053
Lockers L1-031 to L1-102
2. Parking Locations
DTK Condos includes five levels of Residential Parking.

There is one floor of below ground Residential Parking followed by four additional floors of enclosed, above ground Residential Parking.
The above ground Residential Parking spaces are enclosed by a large parking garage door and can only be accessed by building occupants. Electronic key fobs are provided to those occupants who secured parking so they may access their assigned parking space.
While above ground, all levels of parking are fully enclosed and inaccessible to non-building occupants.
3. Storage Locker Locations
Similar to parking, DTK Condos includes five levels of Residential Storage Lockers. DTK offers two types of storage locker.
Standard Storage Locker
Combination Parking + Locker
Standard Storage Lockers are located between P1 and Floor 5 (L5). These are pretty typical cage style lockers. Each one is approximately 3 feet deep by 4.5 feet wide. Standard Lockers will typically be located in locker rooms with many other lockers of the same size. Each locker room is accessible by fob or door entry code. These fobs and codes are only provided to building occupants who rent or own Standard Lockers.
Combination Parking Lockers are located at the end of a building occupant's parking space. These spaces may vary in size, but are approximately 3 feet deep while sharing the same with of the coinciding parking space.
Parking cannot be rented by a Tenant who did not rent a parking spot as part of their original lease agreement. Parking spaces can only be provided and rented to Tenants who rent from Suite Owners who also own a parking space.
Tenants are free and able to privately sublease parking spaces should they choose to other building occupants. Tenants cannot sublease parking spaces to non building occupants.
4. Condo Boards & Rules
Unlike some others rental locations in Kitchener Waterloo, DTK Condos is a registered condominium. This means that Residential Suites could be occupied by either Tenants or Owner Occupants, that there are specific condo rules and regulations that all must abide, that the building will be represented by an elected group of Suite Owners as their board of directors, and that the board of directors will work closely with a property management company to complete various items or uphold unique bylaws within the building.
5. Property Management
Hello Management is not the only management group working within this location. Onyx Property Management will work as the property management company for DTK Condos.
Hello Management represents the specific person who owns your suite. It is our role to assist Tenants and coordinate repairs or other such similar items within your suite. Hello Management cannot provide assistance for items or concerns outside of the suite.
Onyx will manage the common elements and structure of the building. This includes the suite entry doors, hallways, elevators, all amenity spaces, the lobby, the entry doors, fob systems, and concierge.
If a Tenants requires assistance related to the common elements, they may choose to contact Hello Management for insight or assistance in contacting Onyx Property Management.
6. Lobby Concierge
DTK Condos is proud to include a front lobby customer service representative.
The DTK Concierge will be located in the main lobby of DTK condos during regular office hours. The Concierge can assist with lock-outs, provide access to suites for scheduled contractors or technicians, monitor security cameras, report suspicious activity, and collect Tenant packages or deliveries.
By including a concierge, DTK Condos is adding a unique administrative member as well as increasing the overall security and comfort within the building.
7. 1-Valet
In addition to an on-site concierge, DTK Condos also provides access to a virtual concierge system.
1-Valet has provided some youtube videos on how to work their features.
Resident FAQ Ep.1 – Onboarding: Click Here
Setting Up Facial Entry: Click Here
Video Calling: Click Here
Sending Guest Invitations: Click Here
Booking Amenities (overnight parking example): Click Here
Booking Amenities (meeting room example): Click Here